RE: Costume Institute Gala - the Met Gala, 2019
Pete Waterman
The legendary music producer behind most of Angleter's hits in the 1980s and many of its less successful EuroVoice entries, Pete Waterman, or "Sir Pete Waterman" as he likes to call himself, is known primarily around Europe for the much-loved protest song Nuke the ECoJ.
Pete made his way along the catwalk wearing a classic black tie suit with a light overcoat. After posing for photos briefly, and upon seeing the photographers divert their attention to some woman or something, Pete shouted out: "DO YOU WANT TO KNOW HOW SIR PETE WATERMAN IS FOLLOWING THE THEME?"
After a few seconds, as it became apparent that nobody was interested, Pete walked over to the cameras and edged in between two women he didn't recognise. "EXCUSE ME," said Pete to the press, "THIS IS SIR PETE WATERMAN, CATHOLIC THEME!"
Pete turned around and asked the two models to remove his coat. They did, reluctantly, revealing the back of his dinner jacket reading in large Tipp-Ex letters 'ECOJ REPENT OR GO TO HELL'.
"IT SAYS: ECOJ REPENT OR GO TO HELL! Also we need more trains. Waterman out." Pete made his way past the rest of the bewildered press and into the exhibit.
Gisela Stuart and Peter Montfort
"We're the only Angleteric politicians here, aren't we?" asked Gisela.
"Well, you are. I'm not even a politician," replied Peter. "But yes, everyone else is too scared of Cardinal Sidhu and the voters."
"Do you miss being accountable to the voters?"
"Oh, absolutely not. I much prefer running the vote to taking part in it. I wonder if Sidhu will try and boycott any EV entry who goes to this."
"Haha, could you imagine. Fucking rock singers doing public penance to try and get 12 points from Angleter."
"Speaking of bishops, why did you take me as your date and not, you know, Firoux?"
"Because you know this isn't a real date."
The press shouted for Gisela and Peter to come over and take questions from them
"Premier Commissioner, what's on your head there?"
"It's a nativity scene; how better to represent the birth of a new era for the EU under my leadership?"
"Is this really the best use of your time? What will the voters think?"
"I'm not here to talk politics; tonight is about charity, supporting our fashion industry, and respecting the artistic tradition of the Catholic Church. That's why I'm here and I hope everyone else is here for the same reason. And besides, I can't run again next time, so I don't need to obsess over my 'image' or anything like that. Have a great evening!"
"And Mr Montfort, will we be seeing this costume next time you're in Icholasen for EuroVoice?"
"You'll have to watch to find out!"
They continued into the exhibit.
Kate Bush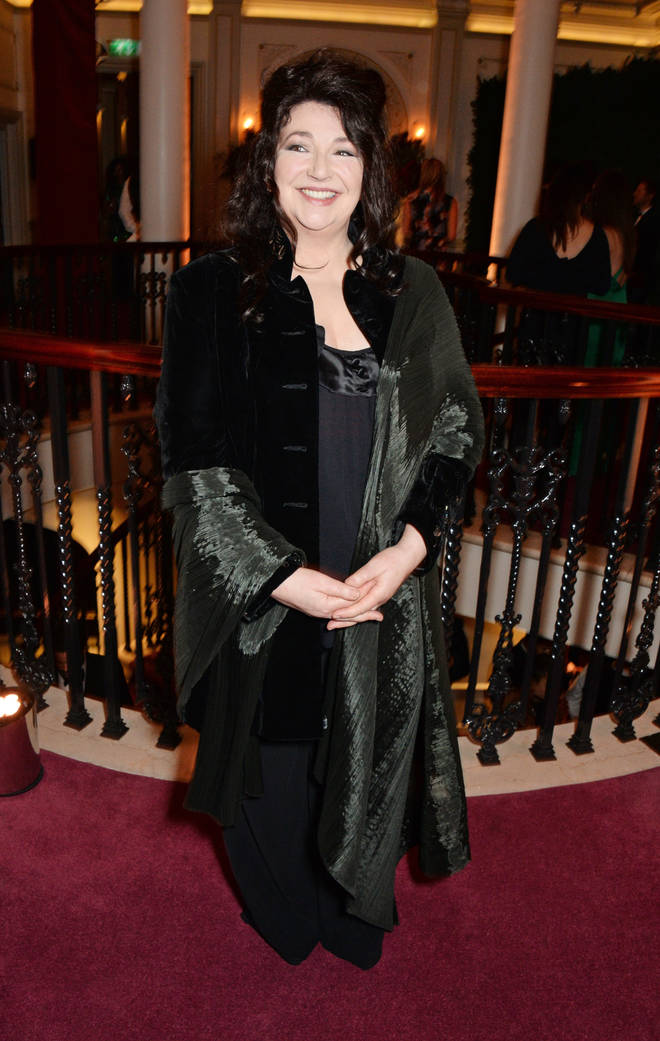 Kate Bush was on a roll after a new tour and an appearance at EuroVoice 34 in Angleter. The press called her over almost as soon as she arrived on the catwalk.
"Kate, can you take us through your outfit? No Wuthering Heights red dress?"
"I'm wearing all black because traditionally it's the colour women wear when meeting the Pope. In fact only a handful of queens and princesses are allowed to wear white instead; so the inspiration came from that."
"And what do you think of what you've seen so far tonight?"
"Well, I've only just got here, but from the couple of outfits I've seen tonight, I'm totally blown away. Great originality, great creativity; it's what tonight should be all about."
"Can we be expecting a performance from you tonight?"
"Nothing official, but you know what, I bet you could do with some entertainment out here, right?"
The journalists all eagerly agreed, so Kate launched straight into the chorus of Running Up That Hill:
"If I only could... make a deal with God..."
Kate signalled for the journalists to join in; some of the other attendees on the catwalk began to crowd around and also joined in:
"AND I'D GET HIM TO SWAP OUR PLACES... BE RUNNING UP THAT ROAD.... BE RUNNING UP THAT HILL..."
Kate stopped singing and gestured to the crowd, who filled in:
"BE RUNNING UP THAT BUILDING..."
Kate finished: "Say if I only could, ooh-oohhh"
The audience that had built up around Kate applauded as she took a bow and then proceeded towards the exhibit.
posted in Culture and Sport